Software to remove header information from BMP file
BMP Header Remover just removes first 54 bytes (BMP header length) of the source file and saves the result into the destination file. That's all :)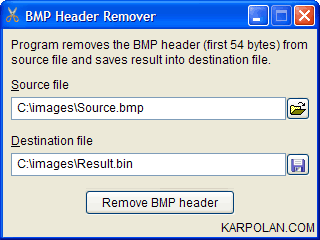 You may download and use BMP Header Remover software absolutely free, either for personal or business purposes:
How does this program appear?
BMP Header Remover software appeared when my father asked me to help him with making a dump of bitmap file raw data. He needed it to create an indicator panel for an electronic measuring device.
I was searching using different Internet search engines for a while, but haven't found any ready to use solution. So it took few minutes to create a prototype of program to delete header in BMP file by myself. And then I have been polishing it for some hours to make the first public release.
More about BMP data extractor
I hope this bitmap header cutter be useful for many people who need a pixel map of *.bmp file without any additional information. Extracting of the raw bitmap data from graphic file is often task for many software and hardware engineers, game developers, and other "computer people".
If you need any additional features in this software, fill free to contact me. I'll improve the program if will have enough of free time.
Thank you for your interest and for choosing this program :)